So I'm feeling pretty good today
...
I have made quite the exchange within the past four days that has netted me not only some fine audio equipment, but a 400% return on my investment. How's that for some easy math?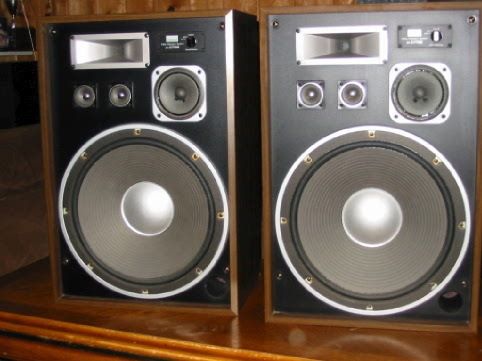 Last week I found someone selling a pair of ancient speakers that they had bought new, and had listened gently to for the past 25 years. They had since moved on, and were hoping to get rid of some excess things.
I drive over and was elated to see that these legendary Japanese babies not only had been kept in pristine condition, but the owners had kept the original packaging along with it.
It was the perfect scenario: Middle-aged couple seeking to begin their midlife crisis together determine to shed remnants of their early life together. Rather than concern themselves with what the market may be for these speakers today, they put them up for a quick sale, and the first voracious buyer who will come to their home is welcome to drag them away for a mere $50.
I bring my new 35 pound (a piece) treasures home (in their boxes, by the way) and get them set up at home. The speaker's massive 16" woofers are probably the biggest I've ever seen. These speakers consume a huge 160 watts a piece, and were pretty much designed to be aural jackhammers. Neighbors be warned.
Within a few hours of my purchase, I happened to notice yet
another
middle-aged couple selling some speakers for $25! I decided this was too good to be true, and drove out there and picked them up (even heavier - 45 lbs a piece with gorgeous solid wood cabinets) and plugged them in next to the monsters.
After a little bit of listening, I realized that I really didn't have much use for two sets of these massive speakers (duh.) and I should try and sell one of the sets. I already knew I much preferred the second set that I'd purchased. and so set about trying to set a price on the 16" woofer-monsters.
Initially I just considered re-couping my expense, but decided to make a little bit more back, knowing I'd easily find someone to buy them anyway. I posted their sale on my local classified web page and waited.
The next morning I got an email from a fellow audio geek who suggested that I had vastly under-priced these speakers, and could get a lot more for them. I asked him how much he thought I could get? He estimated between $200 - 250, since I had the original packaging, after all.
I decided to see if anyone would be interested in the speakers at a price of $200.
Within the day, I had an email from someone who was interested, and willing to trade some other equipment (something I'd thrown out as a possibility) plus cash.
After a few emails, we had settled on the exchange of a set of Dynaco cabinets (see photo) in 'excellent' condition and $100 cash.
I've been trying to figure out how far ahead this puts me. I wish I could do math like this all of the time - put in $5 and get out $20, but I don't imagine it'll happen often. Aside from the cash being more than I invested, I'll also be getting a set of legendary stereo speakers which I hope I will fall in love with like I did the second Japanese set that I found for $25.
Today I plan on selling my booger on ebay and making a million dollars. You all should bid, and drive up the market value.