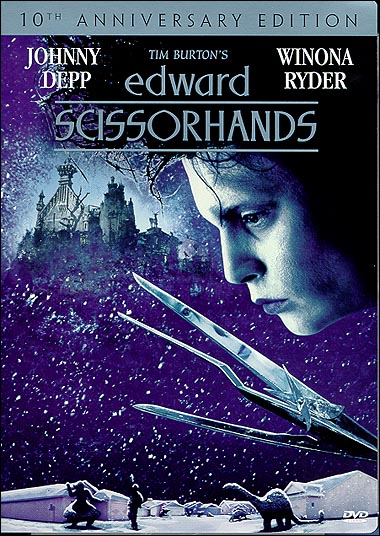 Recommended DVD: Edward Scissorhands (1990)
Directed by: Tim Burton Starring: Johnny Depp, Winona Ryder
Tim Burton has had quite a year. This summer's remake of
Charlie and the Chocolate Factory
was the season's biggest hits. Even despite it's main-stream success, Tim Burton fans are still devoted to the more gothic painterly style of Burton's earlier works such as the original
Batman,
and
Beetlejuice
. This fall saw another Burton film, the stop-motion film
Corpse Bride
which I reviewed in an earlier column. This of course was harkening back to the success of the
Nightmare Before Christmas
. Even though his work has been very diverse and prolific, his work still carries his own distinct identity.
...and his films always suffer from the same problem, in my opinion. And that is a lack of depth in the story-telling. On more than one film I have noticed what seems to be a shortage of story elements. The films have great first act plots, but when it comes time to develop the characters - and more specifically, the plot, his movies fall short, and left me feeling short-changed. (I think specifically of the stories of
Sleepy Hollow
and
Corpse Bride
both had plots that had great concepts, but failed to develop them.
Still, Burton has his moments. Not only is
Scissorhands
a moment, but I believe it is his greatest film to date. It is certainly the defining film of his career.
This film falls cleanly into his earlier work, more in line with
Sleepy Hollow
, than his latter body, the likes of
Big Fish
. Relying heavily on every day items and conventions to create eerie and unsettling circumstances. One of the main characters is an Avon lady - unsettling enough in itself.
The film does not feel it necessary to explain the origins of Edward except to say that he was created by a mysterious inventor (played by Vincent Price) who died before completing Edward, leaving him with scissors for hands. Upon one of her rounds as Avon representative, Peg (played by Diane Wiest) decides to take the lone Edward home to live with her and her family. It doesn't take long for all of the neighbors to learn of the new visitor, and Edward soon makes his niche in town by cuttinng topiary and women's haircuts. Invariably though, due to jealousy and misunderstanding (nothing like a leather-clad freak wandering around town to raise questions) he is driven back to his isolated existence, having captured the affection of the young Winona Ryder. This movie is entirely engrossing - not in any small part because of the assortment of colorful characters, but even at the age of 27, Johnny Depp was achieving impressive characterizations that still amaze and mezmorize. It is odd to think after seeing this film that he has taken so long to rise to super-stardom.
I highly recommend this film. It is shoved into the horror film catergory, but alike
Saw
, this film has less in common with that genre than you would think. This film does have the freakish and unsettling character of Edward Scissorhands whom is always startling out of place with his surroundings, but this film is about a poor person who can not find a home.
Four and out of Five
T.